Admissions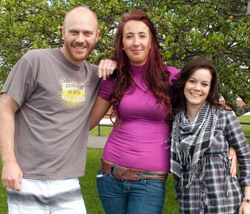 Whether you're a current high school student, transfer or returning student, a registered apprentice, mature student or someone looking for a continuing education opportunity – we've got something for everybody! And do we have the right to claim a superior product? Indeed we do – our graduates are in demand, across the province, throughout Canada and around the world! A study conducted by the Government of Newfoundland and Labrador proves that a higher percentage of CNA's graduates find high-paying jobs specific to their field of study than those from other post-secondary options – rewarding, lucrative jobs doing what they were trained to do!
We continue to have the lowest tuition fees of any post-secondary institution in Atlantic Canada (just $726 per semester for most programs!), having had a tuition freeze in effect since 2005. We offer an impressive world-class, nationally accredited range of programming that meets the highest demands of industry; transferability opportunities that promote continuing education at home and abroad; research and development leadership in community and regional innovation; and precedent-setting international partnerships.
To us, it's a basic equation of supply and demand – and CNA is In Demand!